Have you ever wondered why Hanukkah cards, lights, candles and other decorations are mostly blue and white, or blue and silver?  We consulted a number of sources and were surprised to find several (sometimes conflicting) answers to this question, ranging from the literal to the symbolic to the cynical.
The most literal explanation for the blue and white is that these are the colors of the Israeli flag and these national colors are particularly meaningful during Hanukkah as the holiday commemorates the Jewish victory in reclaiming their Temple and overturning the ban on their religious practice.  This is probably the most obvious and widely-held reasoning for the blue and white.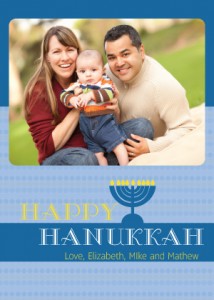 [Bright Hanukkah by designer Amanda Zoss]
A more symbolic explanation of the traditional Hanukkah colors is that blue is a symbol of faith and consistence and white is a symbol of purity.  Combined, these colors represent the faith that Jews have in God and the Hanukkah miracle.
[Hanukkah Gift by designer Amanda Zoss]
Another explanation of Hanukkah colors has a highly cynical tone shared by numerous online postings and blogs.  This opinion is that there are no traditional Hanukkah colors with religious significance; and while the blue and white may have evolved from the Israeli flag, the white was changed to silver in order to add a festive glittering effect.  Folks holding this opinion believe that companies 'branded' the blue and white/silver Hanukkah colors as a commercialized response to the red and green color 'brand' of the Christmas market. 
Considering the many revered symbols of the Jewish faith such as the menorah and the Star of David, these conflicting explanations of the Hanukkah blue and white should not be cause for concern.  Visit LookLoveSend.com to see the beautiful Hanukkah cards featured above or to view an array of other card designs from the elegant to the playful.  All our cards are printed on premium quality paper.  Order before November 15th to receive 15% off your order.