Would you be the kind of mother who dresses her twins in matching outfits or purposely different?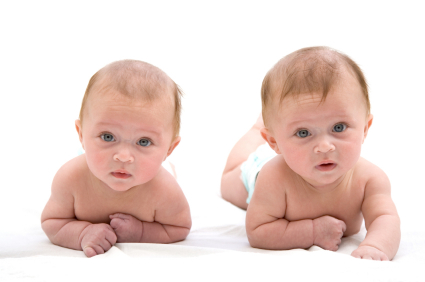 Whether you would choose to emphasize their common bond or encourage their unique personalities, mothers of multiples certainly have extra childcare decisions to make. Wardrobe decisions and double stroller struggles aside, moms of multiples often have great survival tips that can help other mothers of one, two or six.
The June 2011 issue of Parents magazine features some helpful hints from mothers of multiples. A few of these hints are below and show the delicate balance between making mom's life easier while allowing each child to retain his individuality.
Encourage team work:

when giving one twin a cookie, ask him to give one to his brother. The boys will soon learn to do this without asking and watching out for each other will become second nature.

Stress individuality:

refer to the kids by name and not always as "the twins". Also plan for parent alone time with each child.

Share socks:

buy the same type of socks to help your laundry sorting sanity.

Celebrate each birthday:

let each twin blow out her own candles on her own cake. Twins will certainly share gifts and parties throughout the years, so let each have her own few minutes in the spotlight.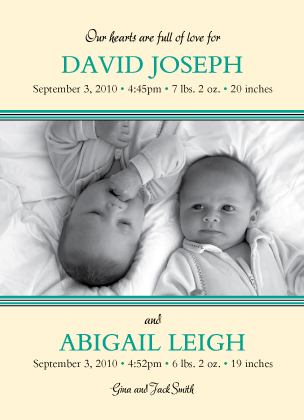 I can imagine that maintaining this balance could be a challenge. But when announcing the birth of multiples, send a customized
with photos to make mom's life easier while allowing each twin to shine.  LookLoveSend has a growing selection of
such as this one by designer Sandra Roth. Online customizing is simple; most cards are available in several colors andone or morebaby photos can be easily uploaded to introduce each baby individually, but in an easy and efficient way.