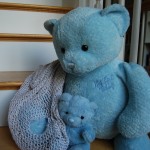 This discolored, hole-ridden, ripped blanket has helped my family through countless fevers, dozens of tantrums, and too many sleepless nights to count. Sure, it is half the size and about 10 shades greyer than it used to be, but I think my son's "blankie" was hands-down the most invaluable baby shower gift that I received. When my sister-in-law gave me this handmade crochet blanket nine years ago, I had no idea about the Power of Blankie. Since then I have easily spent 15 minutes at a time looking for this blanket, I have (badly) repaired at least 6 holes in this blanket, I have turned the car around to go home and get this blanket when forgotten.
So when you receive your next baby shower invitation, if you are close to the mom-to-be and have a little Martha Stewart inside; consider giving the gift of a homemade baby blanket. Whether you choose to knit, crochet or stitch this special gift, here are some basic hints:
36″ x 36″ is a good guideline size
Try to avoid synthetic materials, search for organic yarns with natural dyes.
Tap into online resources for patterns and photos. http://www.crochetpatterncentral.com/ has a fantastic collection of free crochet patterns.
Giving a homemade blanket is an incredibly personal and loving gesture. And while there is no guarantee that any blanket will be granted the Power of Blankie, it could just happen thanks to you.
If you are hosting a baby shower, check out LookLoveSend's growing collection of baby shower invitations. All our invitations are professionally designed and can be customized with your specific details.