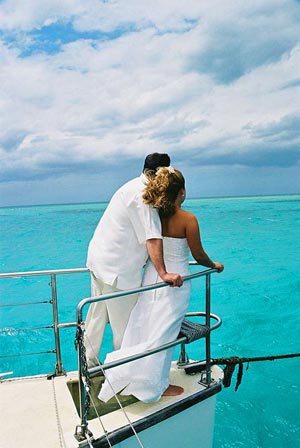 Most couples have a mental picture of what their ideal wedding would look like – the guest list size, the setting, entertainment, menu…but unfortunately in these tough economic times, this mental picture may need to be adjusted or downsized.
While this economic reality check may be discouraging at first, it could actually be an opportunity to plan an intimate, unique,and truly memorable event – by making it a destination wedding. While a destination wedding may not seem cost-effective at first glance, the option is definitely worth considering. Here are a few benefits of a destination wedding from a cost perspective.
Great airfare and hotel deals can always be found if you are flexible in terms of destination and time of year for your special day.
A destination wedding is usually an intimate event so it is appropriate to invite only immediate family members and a few close friends. This will limit your guest list expense (and you can always host a simple get-together with others when you return).
A destination wedding is usually less formal thana traditional wedding (think barefoot beach wedding)which provides the opportunity for more simple (and less expensive) wedding attire for the bride, groom and wedding party.
Decorations and flowers do not have to be overly elaborate (or expensive) for a destination wedding – let the beauty of your chosen location speak for itself!
No separate honeymoon required, just extend your stay and enjoy your wedding locale as a married couple.
Planning a destination wedding is not for everyone. It definitely takes a lot of research and planning, particularly for some of the less mainstream locations that are undoubtedly the most cost-effective. But for the right couple, a destination wedding can be the opportunity tocreate a truly one-of-a-kind memory plus you'll have a meaningful place to visit for anniversary trips in the future!
At LookLoveSend.com we have an exceptional team of designers who have created numerous wedding invitations  designs that would complement your destination wedding.  Subscribe to our mailing list and get 20% off of your first order with us!