I have to confess, I have photo birth announcements stuck to my refridgerator that are several years old. And these babies will probably be starting Kindergarten before I take them down!
With our increased online communication and social interaction, I think it is becoming even more meaningful and special to receive a baby photo in the mail. Most people love to see baby photos and I truly love to receive a good quality photo sent via traditional snail mail to my physical mailbox. And I'm sure I'm not alone in this.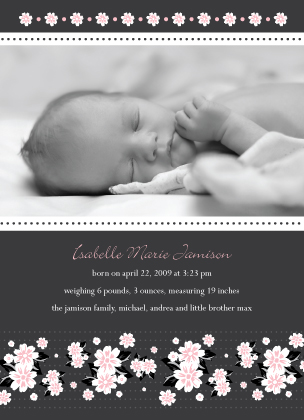 Sending a photo birth announcement, such as "Pink and Black Floral" by designer Simon+Kabuki, is a great way to introduce your newborn to those you love. Include a short personalized message, provide those weight and length stats that everyone asks about, and add one or more photos of either the baby alone or with the family.
LookLoveSend has a broad selection of photo birth announcements crafted by an exceptional team of designers and awaiting your customization. All cards are printed on fine quality paper and our superior customer service will make your ordering process simple and quick.
Spread the news of your newborn with a photo birth announcement…and you'll probably enjoy seeing your baby's photo on friends' refridgerators for years to come!
See oir great collection of designs for you to choose and announce the arrival of your cute little one to this world!  Join our mailing list today and get 20% off of your first order with us.