A baby's first year is full of developmental milestones thatwe, as parents,readabout, watch for, and try to capture on film when they happen for us. How many parents have clapped with glee when their four-month old did a simple flip from front to back?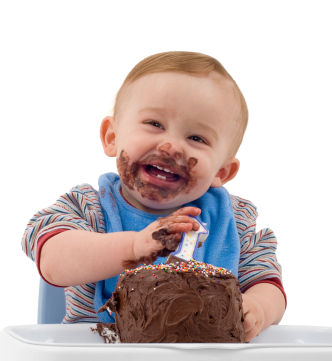 Whether your 1-year old is crawling, standing or walking, there is one event that is universally treasured and remembered – baby's first birthday.
Many families choose to host a baby's first birthday party for family and close friends. For parents it's a time to marvel about how quickly the year has passed and to capture the obligatory photo of baby with birthday cake smeared everywhere!
Make your celebration truly special by sending a custom first birthday party invitation. With many playful and colorful designs at LookLoveSend, you are sure to find one to match your baby's personality.  Another special touch may be to make it a photo birthday invitation – isn't it always nice to receive a cute baby photo in the mail?
After the cake, balloons, gifts and favors, another way to make this first birthday one to remember is to select a cute frame and hang the party invitation in your baby's room. Both you and your child will love to see this in years to come.
Subscribe to our mailing list and you will receive 20% off of your first order with us!