Newborn winter babies present parents with a number of challenges, from extra bundling layers to attentive germ protection measures.  And when it comes to planning a photo shoot for birth announcements, indoor natural light can be hard to get right, particularly if you live in a more northern region. There are a few helpful things you can do to remedy this, and they work well for photographing baby any time of year!
Blogger photographer Darren Rowse has a thorough list of tips for photographing babies. From that list here are the specific ideas that will help with winter photo shoots.
Lighting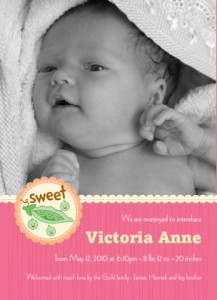 Most photographers will try to use natural light whenever possible. But in winter in northern climates, with the sun at a lower angle even on those days when it appears, means you are more likely to need a flash. So in winter, try filtering the harshness of the flash by holding tissue paper in front of it. Or, if your camera has a bounce flash, use that setting to keep the light indirect.
Angles
Getting down on baby's level is a great strategy for any time of year. For newborn babies in particular, finding a good angle that capture more than just a forehead or paunchy cheeks or a bald head may require you to experiment by lying right on the floor next to baby.
Color treatments
There is more than just artistry to choosing a black and white photo of baby. It comes in very useful as a way to mask the newborn markings  from scratching with those little fingernails, or from the natural appearance of baby acne, cradle cap, or other markings of a difficult birth. Using a black and white treatment can actually enhance the beauty of a newborn's soft supple skin, while masking the imperfections.
Keep your camera handy for any and all photo opportunities. Once you have a collection of shots, try them out in a personalized photo birth announcement, such as those available at www.looklovesend.com. You might be pleasantly surprised how much a great card design can enhance what you thought was a mediocre photo. LookLoveSend has a wide selection of styles, with easy online personalization tools to customize your photo in black and white. Take advantage of free domestic ground shipping if you order 50 or more announcements.