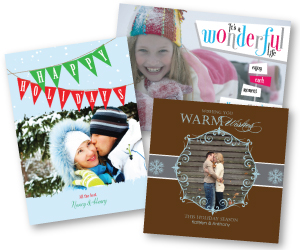 'Tis the season! And it is once again time to reconnect with old friends and send your warmest greetings to your loved ones. This year, go a step further to show your love and appreciation for those that make your life special by sending a personalized photo holiday card.
Personalization Makes a Difference
Everybody loves to receive a personal greeting in the mail, especially this special time of the year. By sending a unique, memorable and creative photo holiday greeting, you make sure not only your friends and family know you are thinking of them, but you share with them a personal snapshot from your life that they may have missed during the hustle and bustle of the year.
Sending personalized photo holiday cards this year adds a personal touch and makes your special greeting more memorable in the sea of holiday cards everyone receives. Finding a unique, fresh design helps even more…
Shop for Quality Cards Designs
Look for cards with options to make it your own, such as color palate selections, different font styles and the ability to print inside or on the backside of your card. You'll worry less by choosing cards professionally designed for customization by professionals whose card designs offer font styles that work with the overall designs of the card and who can balance the best color combinations are most pleasing to the eye!
Look for card designs with different photo layout options, such as single photos or multiple photos, arranged how you like them. You'll want to be able to personalize the design with your own pictures using online tools that make it simple and quick to upload and adjust by focusing in or out on the picture, and allow you to view the photo in color or black and white. Choose from your own photo collection — there is no limit to the kinds of pictures you can include in your holiday greeting: a family portrait, photos of your children, a snapshot from your recent vacation or adventure or a funny picture of your pets.
Don't Wait. Online Personalization is Easy But Takes Thought
Photo holiday cards are wonderful to send and receive no matter what holiday you celebrate, whether it is a greeting to wish a general happy holiday season, or a more specific holiday like Christmas, Hanukkah or New Year's Day. Depending on when you want yours to mail, get started now to shop for a design and cull through your photos.
You'll find hundreds of original and unique holiday photo card designs at www.looklovesend.com, with easy personalization tools. You can search for your card based on a specific color, card shape or even by designer. All personalized cards are printed with beautiful, rich inks on high quality card stock. And if time is of the essence, all orders ship the next business day!