Spoiler alert! This post is for the folks with a child age five and under only.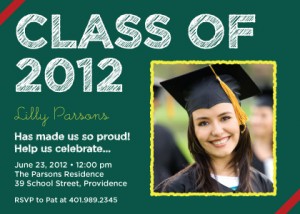 It's a funny thing to envision your child at graduation…high school graduation, that is. It's not a comfortable image mailing graduation party invitations. It's funnier still if your child is only four years old. Or five or six, maybe. It's kind of like when you tried to envision what they would look like back when they were only six months old, and yet, in the blink of an eye, there they are, age ten, stepping on up into fifth grade, or worse, seventeen, stepping on up into senior year, or even….college?
Even if your wallet is okay with college, your heart might not be quite ready. (Okay, yes, we know many of you whose hearts are ready and your wallets aren't, bear with me please!) But regardless of your situation and circumstances, one truth remains: how do you express to your child the love and effort bestowed on their life?
A simply yet highly effective graduation gift given at their graduation party can tell the story. Start now, with your preschooler, by circulating a special story or book for your child's teacher to sign with a brief note. It's so effective to catch a teacher at their most sentimental. This is the moment when a teacher can best remember the quintessential thing about your child, and write it onto paper to remain for all time. Do it through a book that you ask the teacher to sign. There are several great books to choose from, with special message about growth and youthful optimism.  Choose one, and get it into the teacher's hands about a week before school ends each year. That way they won't feel overwhelmed with your request among all the other obligations the end of the year typically brings.
Great Graduation Gift Books
This is the number one pick written by Dr. Suess that seems to attract so much attention. It's symbolism and warning against a life of inaction and waiting is a powerful message for all ages.
The classic of classics. The tale of one man's ( and a woman's) adventure away from home and back. A standard against which any life might be measured. At least in symbolic terms.
This choice is a more direct type of life guide book. Find out exactly what beckons your skills and passions.
The key to this graduation gift is to keep it going year after year for the twelve years your child is in school. Oh what a special book it will be. Oh what special messages it will contain. Oh what special insights into your child's early years it will behold. Start now and you'll have  a treasure your child will keep for life.