The "pre-tween" age group is loosely defined by experts as kids ages 7-10, depending on the child and his or her environment. Does pre-tween really qualify as another age demographic for parents to consider? When it comes to birthday party planning, it almost certainly will.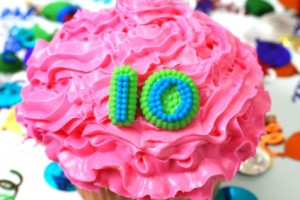 It seems that our culture of savvy marketers thinks so too. Disney's family.com website is geared towards parents of the group 9 to 12 year olds, the younger of which they refer to as "pre-tweens." Pop culture marketing machinery behind phenoms like High School Musical and Justin Bieber are laser-focused on the pre-tween age group.
So maybe I should not be surprised by my nearly 9-year old's burgeoning taste preferences and self-consciousness. Unfortunately, this includes a growing awareness of me, the mother (okay, embarrassment is more accurate). Being a pre-tween has led to more opinion about what the birthday party invitations will say this year too. Coupled with less enthusiasm for my suggestions, here's an instructive recap of our party planning discussions:
Past trick #1: Interactive, seasonal craft
Pre-tween twist: I don't want to make stuff
Past trick #2: Invite as many kids as you are years old
Pre-tween twist: I want to invite both boys and girls
Past trick #3: Pizza & Cake
Pre-tween twist: Will you make that banana split ice cream dessert? It's my favorite (note: it isn't a cinch)
We ended up agreeing to three themes that are action-oriented and appeal to both boys and girls in this age group. Each has certain drawbacks. You should determine what you are willing to give in terms of work and effort, and what kind of access you have to party facilities in your local area:
Scavenger Hunt Lot's of creativity and flexibility comes with this one, but it also requires the most work on your part to create and execute.
Bowling/arcade A traditional favorite, but depends on the quality of bowling lanes in your area. We had great success doing this for the age 8 party, but don't want to repeat.
Rock climbing Indoor rock climbing facilities have sprung up in many major metropolitan areas, and we'll benefit from a facility that caters to kids and has party facilities.
Wherever you end up in party planning discussions with you pre-tween, you can find fresh, fun party invitations at www.looklovesend.com. Many designs are geared specifically towards the teen age group and can also be customized with a photo. All party invites are printed on high quality, premium papers. Join the email list and receive 20% off your first order!