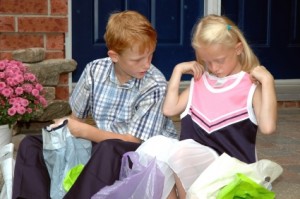 What does back-to-school and holiday shopping have in common? Besides a trip or two to the mall, some significant savings for both may be just around the corner this month, depending on what state you live in.
Late in its legislative session, (as in yesterday), the state of Massachusetts gave the green light to another annual back-to-school sales tax holiday. This puts them in the company with 16 other states giving consumers a break from sales tax for a limited period of time on typical back-to-school items such as clothing, shoes and computers.
Alabama resident? Your holiday is this weekend. Connecticut? The last week of this month.
Most states' sales tax holidays last for just a weekend. Connecticut and Maryland have the longest sales tax holiday, lasting a week. Louisiana and Massachusetts give the most most generous break, on items up to $2500. Five states don't have sales tax on such items so they live ths holiday year-round! (Alaska, Delaware, New Hampshire, Montana and Oregon.)
If your are lucky enough to live in one of these "sales tax holiday" states, or near enough to drive to one, think ahead about getting a jump start on your Christmas shopping. Restrictions vary from state to state. In Massachusetts and Louisiana, for example, big ticket items like computers and even furniture are in play. Some savvy retailers are even advertising the holiday, encouraging customers to come in early to preview items, then call in their order during the effective holiday dates.
Even purchasing items for delivery after the holiday ends are included. Unfortunately, online purchases are not included, nor are other taxable services. But the money you save, not to mention shopping time later in the season, can be put towards other holiday uses, such as Christmas cards, your holiday party planning budget, or even a ski weekend! Or maybe just gas money to get to Grandma's house.
If your are a planner, you may be thinking about your Christmas cards. Take a look at the growing selection of exciting designs available at LookLoveSend.com. All holiday cards, including photo holiday cards, are printed on premium quality papers. Take a minute to join the email list and receive 20% off your first order.