Booties, bibs and bonnets make regular appearances at baby showers. Who can resist purchasing the diminutive baby apparel in sweet fabrics and prints? But as much fun as it is to dress baby, sometimes a gift to help dress the the growing mom-to-be can make a treasured baby shower gift.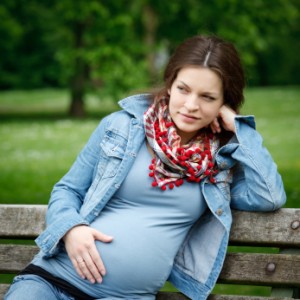 An expecting mom is likely always figuring out what works best for her growing and changing shape. Clothing choices also depend on the season when she is pregnant and the regional climate. But experienced pregnant moms agree on a few universal wardrobe favorites.
Maternity camisole(s) Today's low-cut and floaty fabric tops often require some added modesty that a properly cut camisole provides. Having many of these can really help a third trimester mom out after she can no longer pull a regular one down over her bellybutton. Check out the colors available from Motherhood Maternity.
Maternity yoga pants These can last beyond the pregnancy. A pair of either full-length or Capri styles go with just about anything when purchased in black. Look for the fold-over band to adjust with growth–they are more comfortable than the below-the-belly cut which tends to tighten.
Maternity jeans This is a must-have wardrobe item. But it is hard enough buying them for yourself on your skinniest of days, so opt for a gift certificate. Any pregnant mom would be thrilled with the help to purchase an item that rarely goes on sale and only gets worn for a few months. Check out Parents.com's Best Maternity Jeans buying guide for the most flattering brands.
Splurge accessories are another great option if you aren't comfortable buying maternity clothes. Some items that every pregnant woman would enjoy having include leather boots, glamorous sunglasses, or colorful scarves.
If you are planning the baby shower and need fresh, fun shower invitations, check out the selections on LookLoveSend.com. Their designs are always printed on high quality paper and also feature coordinating baby shower thank you notes. Join the email list and receive 20% off your first order.