Oh the sweet and salty smells and sounds of the beach! Who doesn't love to drink in the view, breathe the air and let warm sand ooze between their toes?
Many couples give the beach a role to play in their wedding. Maybe it just makes an appearance on the the honeymoon. Or maybe the beach is center stage as a gorgeous setting for the ceremony or reception. Many destination weddings are big fans of beach setting weddings. If you are planning for any part of your wedding to take place at the beach, some special considerations may be in order.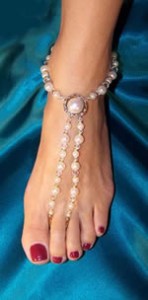 Footwear Sand is not your typical walk-down-the-aisle surface. A recreational walk along the shore brings out a new style of gait in all of us. So what does the graceful bride wear on her feet? For many the answer may be… nothing. That probably works great for the groom. But for many brides, what fun is a wedding without the shoes? It's a good idea to check out some tips for beach bride shoe shopping. We love this barefoot sandal featured on www.beachthemeweddingshop.com is an elegant option to dress up the barefoot.
Sun Protection Unless you are setting up a giant canopy, or taking advantage of the sunset, applying sunscreen beforehand is key. So is making sure your guests think to protect their skin too. We like these sunscreen favors suggested by beachthemeweddingshop.com. Place them strategically at the entrance for the taking as guests walk in to find their seat.
Footwear as Favors Combine these two items on your wedding planning to-do list by picking up some cheap flip flops. We know of one wedding where the bride and groom thought ahead on this one. Their supplier was Old Navy. As guests arrived to the beach, they had bins of flip flops in varying sizes for men and women. They were later donated later to troops overseas and another local charity.
Invitations The more casual atmosphere of a beach wedding is no reason to downgrade your wedding invitation. You will find some gorgeous choices of beach themed wedding invitations on LookLoveSend.com, where premium weight papers and rich inks ensure a high quality printed invitation. We've featured one such invitation from the Beach Love collection here.
Join our email list and receive 20% off your first order. If you are planning a beach wedding for 2012, take advantage of LookLoveSend.com wedding invitation sweepstakes and enter to win your choice of a beautiful wedding suite. Suites include save the date cards, invitations, response cards, programs, thank you notes and more, your choice of items up to a $1500 value.