Just four days until the holiday madness begins.  Black Friday shopping, the first Christmas card arriving in the mail (Auntie Patsy…every year…guaranteed) and time to buckle down with holiday party planning.
And however smooth the holiday planning and gift shopping goes, there is always that minimum of one stressful moment when you're one gift short or the appetizer batch got burned.  So let's take a time out, focus on Thanksgiving, and share a few tips to get through this next holiday as easily and stress-free as possible.  So if you're hosting, here are some of our favorite tips for smoother Thanksgiving dinner prep.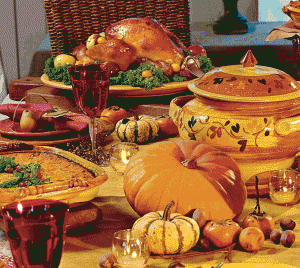 Simplify veggies.  Cut, slice, dice and peel all vegetables 1-2 days before Thanksgiving then place them in Ziploc bags and stack them flat in the refrigerator.  On Thanksgiving day, simply transfer all veggies to pots and pans, leaving you time to focus on the turkey.
Simplify potatoes.  Potatoes can't easily be peeled and stored ahead of time, so peel, cook and mash them early in the morning, then put half a cup of milk in the bottom of a crock pot and add the mash.  A few hours before dinner, turn on the crock pot to low and potatoes will come out fluffy and hot. 
Simplify turkey.  Download the $1 TurkeyTimer app to take all the guesswork out of how long to cook the turkey.  Plug in some values and get it started, the timer will even remind you when it's time to baste the bird.
Simplify the table setting. If possible, set your Thanksgiving table a couple of days ahead of time.  This gives you time to arrange a beautiful table and it's great to wake up on Thanksgiving morning to see it set and ready to go. 
We hope you find one or all of these tips helpful for your holiday meal.  And when you're eating those turkey leftovers and shifting your thoughts to the next holiday ahead, do come back to checkout our amazing selection of fresh Christmas cards and fun holiday party invitations.  Happy Thanksgiving from the team at LookLoveSend.