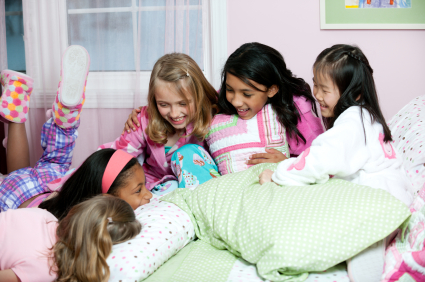 The Slumber Party is a perennial favorite party idea for kids of a certain age. Slumber party invitations commonly appear somewhere in the vicinity of age 7 and up. Be ready, because sending your child to a sleepover for the first time is really a rite of passage. If your child has received a slumber party invitation, prepare yourself ahead of time to avoid stumbling over these common sleepover party challenges.
Your Child Is Invited
The host child or family is unfamiliar
If you are simply not comfortable sending your child to an unfamiliar home, be prepared with a matter-of-fact explanation that your child may attend but you will pick him or her up when sleepover guests get ready for bed. You can easily and diplomatically arrange this ahead of the time with the host parent. Offer the same reason to both your child and the parent: that because it's your child's first time at their house, neither you nor the other parent wants to be awakened at midnight–or later–for a drive home! Then suggest a separate play date so you both become more familiar with the other family for the next sleepover invitation.
Your child is a sleepwalker
If you have a sleepwalker, let the host parent know ahead of time. Tell them how you handle your child during such episodes. They'll be less likely to worry, and they'll feel better prepared to handle the situation appropriately if it arises.
Your child feels a little nervous
Most children form deep attachments to certain "security" items during infancy, such as a blanket, a stuffed animal, or other kind of "lovey." Often their need for these things does not diminish during childhood. Encourage them to bring them to the sleepover party, and reassure them that others will likely do the same. I stash my daughter's blanket and favorite stuffed animal right into her pillowcase every time; they don't even get noticed (or left behind)!
Your Child Wants to Host
If your child wants to plan a sleepover party with her or his friends, stay tuned for an upcoming post about hosting challenges like homesickness and musical beds to help you plan accordingly. In the meantime, shop for original, quality party invitations online at www.looklovesend.com. Fast turnaround (orders ship next business day) means even last minute plans can come together with great-looking invitations!