Who says entertaining has to be complicated? Especially in the summer, throwing a party needs to be nothing more than an excuse to gather with family and friends. Toss together some simple salads, slice some fresh bread and fire up the grill. Prepare a fantastic dessert to delight your guests, and have some tasty cool beverages on-hand.
Here's a sampling of some of our favorite summer drink recipes.
Limeade (Makes about 2 quarts)
10 medium limes, washed well, halved pole to pole, and halves thinly sliced, plus
1 lime, sliced, for garnish
1 1/3 cups sugar
Salt
6 cups cold filtered or spring water
Ice, for serving, optional
In a medium nonreactive bowl, toss the lime slices, sugar, and a tiny pinch of salt and set aside to soften, about 25 minutes.
With a muddler, masher, or wooden spoon, muddle the limes until sugar dissolves and juice is thickened to a syrup, about 2 minutes.
Set a strainer over a nonreactive bowl, pour in half of the lime slices and syrup, and press to release as much liquid as possible; discard the solids and repeat with the remaining lime slices (you should have about 2 cups of lime syrup).
Add the water and stir to dissolve all the sugar.
Transfer the limeade to a 2-quart or larger serving pitcher and chill well.
Stir before serving, over ice, if desired, garnishing each glass with a lime slice.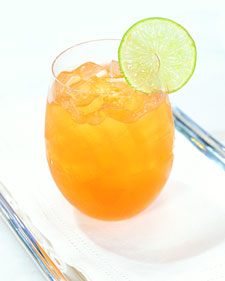 Dark and Stormy
Ice
2 ounces dark rum
8 ounces ginger beer
Fill a glass with ice; add rum and ginger beer.
Stir to combine and serve immediately.
Citrus Sparkler (serves

1/2 cup chilled vodka
1 1/2 cups chilled limoncello liqueur
1/2 cup fresh orange juice
1/4 cup fresh lemon juice
Seltzer
Lemon zest, cut in thin strips for garnish
In a large pitcher, whisk together vodka, limoncello liqueur, fresh orange juice, and fresh lemon juice.
To serve, divide among 8 ice-filled glasses and top with seltzer. Garnish with lemon zest.
Labor Day will be here before we know it, so make the most of the sunny weekends ahead. With drink recipes in hand, all you need to formalize your party are fun, fresh invitations. Browse the growing collection of party invitations at LookLoveSend.com for original designs printed on premium, high quality papers. Join our email list today and receive 20% off your first order.