Has that baby shower invitation been sitting on your counter for weeks? Do you apologetically RSVP, then log onto the online baby shower registry only to find that all the good items have been bought? Time to get creative.
Along with the obvious baby essentials for carrying, sleeping, bathing and clothing, there is a huge category of needs for feeding the baby. But the most common registry items in this category are the bottles and accessories, sterilizers and nursing pillows – all focusing on those initial months of baby's liquid diet.
But that liquid diet soon gives way to solids which opens up a whole new area of needs. The baby solids industry is rapidly evolving with development in the areas of organic food offerings and safe plastic ware for baby. A company that is leading this charge is BEABA(the BEst for A BAby).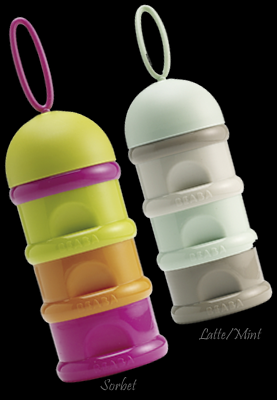 Two BEABA items featured on their site would make a perfect impromptu baby shower gift. The first is this BPA-free snack dispenser that is versatile and stylish. Say no more to plastic baggies of goldfish crackers that get crushed in your diaper bag. This attractive stackable container will hold multiple snacks, clip onto your stroller, and allow easy, quick access to snacks!
The second featured BEABA item is more pricey, but would be a great baby shower gift bought with another friend of thefuture mom. The babycook is a genius product for organic food preparation. Whereas numerous products are on the market for either steaming or grinding baby food, this small machine can be programmed to do both in a single hands-free step. In fact, this product is a countertop steamer, blender, warmer and defroster all in one.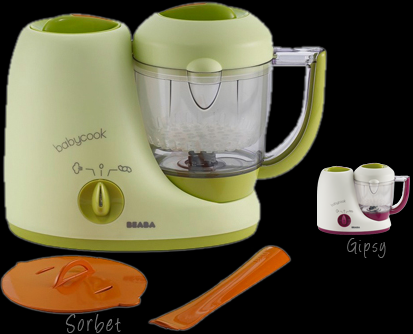 This nifty dishwasher-safe timesaver has received rave reviews and would likely be an unexpected and welcomed gift for any new mom.
We recommend browsing the BEABA site to become informed about their products, available for retail on amazon.com. And if you are really in a pinch for your baby shower gift and don't have time for shipping, consider giving the gift of baby shower thank you cards. Ask the mom-to-be to select a design from LookLoveSend's growing collection and then subscribe to our mailing list to receive 20% off your first order with us!