Think you might be getting engaged soon?  19% of all engagements occur in December, more than any time of year including Valentine's Day. But before you put a ring on it and starting thinking about save the date cards, here are the pros and cons of a December engagement.  Read on and perhaps you'll be swayed to either wait or go-ahead with your asking or accepting!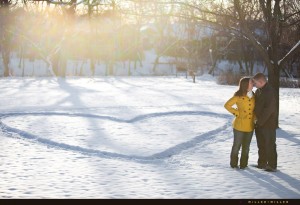 Pros of a December engagement
The holiday season is a great opportunity to spend time with extended family on both sides. Having your families nearby is a meaningful way to include them in your engagement celebration.
The holidays are full of moments that easily lend themselves to a proposal. Decorating the tree and passing a new sparkling 'ornament', or building up the week's Hanukkah presents leading to the ultimate gift of a ring.
The general anticipation and excitement of Christmas and New Year's Eve can set a wonderfully festive tone for your wedding proposal evening.
Cons of a December engagement
Be aware that the engagement may be overshadowed by the holiday season.  Consider if your partner would rather have a wedding proposal on its "own" day, instead of on Christmas or New Year's Eve.
The holiday season can bring a lot of stress, and suddenly having to think about wedding planning on top of it all may seem overwhelming to some.
Your proposal may not feel very private or intimate with so many family members around. 
Whether your preference is a fun and rowdy proposal amidst family or an intimate moment just for two, we extend our best wishes at this special time.  And when your wedding planning gets underway; consider the diverse selection of wedding stationery available at LookLoveSend.com.  Our stationery selection features beautifully coordinated elements such as save the date cards, wedding invitations, and wedding thank you cards.  Order quantities over 50 ship for free.