It's easy to get caught up in the holiday season and have your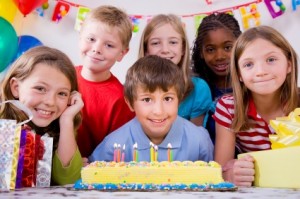 child's birthday be swept away into a tidal wave of holiday festivities. The holidays are a busy and stressful time of year, but it doesn't mean you have to roll your child's birthday and holiday parties all into one. The following are some easy ideas to make the day unique and a magical day of their own.
Selecting a Party Date:
The holidays are a busy time of year for families and friends, so be sure to select a date and send out birthday party invitations well in advance. Since most people receive numerous holiday party invitations during this season, so you may need to get creative and choose to have the party on a Sunday or week night to ensure a large attendance.
Birthday Party Venue:
To help make a birthday party special during the holidays, choose a location that is free of holiday decorations. Whether it's a party that you host at your home or at a restaurant, community center or sporting complex, make sure the decorations are strictly birthday party oriented to make the day unique for your child. Also, allow your child to have a say in selecting the venue and when choosing the menu. Make sure to serve birthday cake, decorate it in a birthday theme and sing happy birthday.
Make the Day Extra Special:
It's typical to be laden down with a list of things to get done before the holidays, however don't forget to make their birthday feel important to your child. Make them a favorite breakfast treat in the morning, or serve them breakfast in bed. Let your child pick out a favorite activity to do.
Birthday Countdown:
During the holiday's it's normal to have a countdown to the festive day. Create a birthday calendar also and countdown the days to your child's big day by letting them tear or "X" off the days as their birthday gets closer.
Gifts and Cards:
Ask friends and relatives to not combine holiday and birthday gifts together as this could be a big disappointment to the child, even if the gift is more expensive than the normal birthday present. Make sure to wrap the presents in birthday wrapping paper and not holiday paper along with a birthday card instead of a holiday card.