With all the hard work most of us put into our holiday photo cards, it seems a shame to not to showcase copies of our past celebrations. Instead of tossing the unused photos that haven't been mailed into a shoebox somewhere, why not make a keepsake album? Not only will this preserve your holiday cards for years to come, but it will also protect them.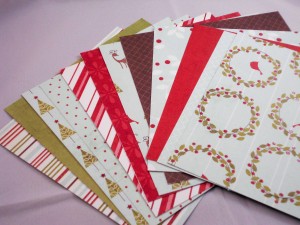 One of the easiest ways to make a quick album with your holiday photo cards is by simply purchasing a standard photo album. There are many different styles to choose from. If the album has plastic sleeves for interior pages, make sure they're large enough to hold your largest photos. Usually 5×7 will be sufficient. If some cards are a bit smaller, and you don't want "blank" space around the edges, simply slide a sheet of patterned holiday-themed card stock behind for an easy filler. Any other pretty paper would work, too, even wrapping paper. Often, cards can be placed back to back, doubling the display space.
Some photo albums may have a plastic face with paper backing, usually with a space for notes off to one side. This can allow for a few jotted notes about the year the card was made, kids' ages, or any other information that might be relevant in the future. It may seem silly to include those things now, but in future years when you're looking back at the album, you'll be amazed at how many of those memories have slipped away, and glad you thought to make note of them.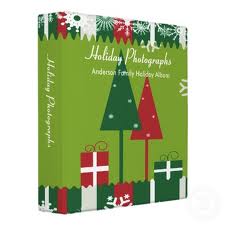 Other albums may have paper pages instead of plastic. For these, adhesive photo corners can be used to mount your holiday photo cards. Applying double-sided tape across the back of the card is another solution. If uncertain whether or not you may want to use the card in the future for another purpose, using removable tape is a good idea. Paper pages allow for more freedom in choosing how to display the cards: horizontally, vertically, or even at an artsy angle. For larger albums, you maybe be able to include a few to each page.
Start your holiday keepsake album this year and within a few years it may become one of those cherished holiday items that is enthusiastically brought down from the attic each December.  If you have great holiday photos but have yet to order your holiday photo cards, browse the great selection available at LookLoveSend.com.  Orders placed by 2pm EST will ship the next business day and enjoy free shipping on order quantities over 50.