Our nephew has Elfie.  Our neighbor has Max.  Does your household have an Elf on the Shelf this year?  The holiday season is full of old traditions – from Christmas cards to stockings to carols – but The Elf on the Shelf – A Christmas Tradition is one of the newest and most fun traditions out there for kids.  It seems that almost every preschooler and grade schooler knows about the Elf on the Shelf, but if you've missed the elf hoopla, here's a quick 101.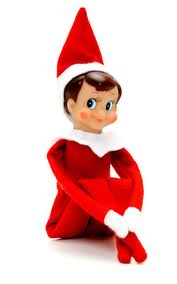 The Elf on the Shelf – A Christmas Tradition is a hardback book and small toy elf that takes on a life of its own after the book is read aloud and the elf is named by its child owner.  After receiving its name, the family elf becomes the eyes and ears of Santa Claus, quietly observing during the day and reporting to Santa at the North Pole each night.  But rather than coming back to the same spot after each nightly visit, the elf hides in a new place to be discovered by the children of the family.  The one simple rule is that the elf must not be touched by humans or else it'll lose its magical powers.  In addition to showing elf their best behavior, kids can confide their Christmas gift wishes for the elf to relay to Santa.  On Christmas Eve, the elf will listen for Santa's bell and fly back to the North Pole until next year.       
The concept is pure genius. Written by a mother-daughter team in 2005, the Elf on the Shelf has grown so much beyond a book and toy elf. Give the elf a personality of its own, create mischievous scenarios for its daily placement, and embrace the fun of this new family tradition. 
Search online for creative placement ideas.  Here are some of our favorites from http://elfontheshelfideas.com:
Use a roll of toilet paper to "TP" your Christmas tree and put the empty roll in your elf's arms.
Sprinkle sugar on the counter and move your elf's legs to make a snow angel design.
Setup your elf with some favorite stuffed animals or dolls as they share a tea party or play a game together. 
Write your child's name in Cheerios and place your elf next to the overturned box.
Pose your elf as the driver in a toy truck or Barbie car.
It's not too late to bring an elf into your home this year, it does take a little creativity and effort, but the kids' excitement and memories are great reward. Happy Elfing from the team at LookLoveSend.com.