Will you be sending out holiday party invitations or hosting an intimate gathering this holiday season? If so, start gathering ideas and objects to inspire the tablescape. Tablescape? Yes, a fancy word thrown around the pages of home decorator magazines and design blogs, begs the question: what exactly is a Tablescape?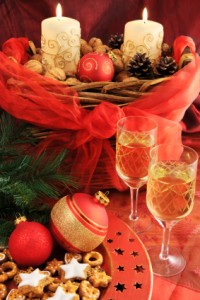 A tablescape isn't just "everything you put on the table." But it is more than a single centerpiece. A tablescape connotes is an intentional collection of items arranged in an aesthetically pleasing way. The other inferred meaning is that a tablescape utilizes things we already have, rather than a newly purchased or commissioned arrangement. Tablescapes are not exclusive to dining room tables where a group will gather to sit and eat either. Use the concept to dress up a buffet table, a coffee table, or any other table serving refreshments or snacks to create a memorable atmosphere.
In a post on  Balancing Beauty & Bedlam, blogger and author notes that creating a tablescape is an outlet for "intentional living." And creating a true tablescape, she says, gives one the occasion to "shop your home." Just think through the basics that you have, and consider new ways to arrange them:
Collections. These can be your own unique  collections of favorite items (such as random clay pots or china teacups) or items you find in nature that you can easily get (pine cones, autumn leaves, or seashells) or items you wouldn't necessarily think to use at a table (ornaments,
Lighting. One hallmark of many tablescapes is to think beyond the pillar candle or set of candlesticks. Build on those by strategically scattering smaller candles or votives. Another favorite way to amplify your lighting is through the use of mirrors, but not the kind you hang on your walls, but rather place right on the table lying down like a tray beneath your candles.
Textures. Tablecloths come to mind, but some of the more original tablescapes skip those entirely and make creative use of runners, napkins, teat towels, or less formal fabrics. Gather a remnant of silk to envelope your centerpiece or toss a piece of burlap diagonally across your table to add texture. Don't be afraid to include chair backs as part of your creation. Tying ribbon or fabric around the back of chairs can add another dimension.
If have taken opportunity to be purposeful and extra creative this holiday season with your table, and have a picture to share, check out the Tablescape Contest for a $500 Homegoods gift card on CentsationalGirl.com. Entries are due by November 30th. You can even get more mileage out of your holiday tablescape if it's worthy of featuring as this year's annual holiday photo card!
If a fabulous and fun tablescape will be related to sending out some party invitations this holiday season, look no further than www.LookLoveSend.com. You can personalize your favorite design and count on high quality paper and printing to complement the event. Join the email list today and receive 20% off your first order.