Consider a candy display table for an attractive, fun and sweet touch at your wedding or special holiday party. The ever-popular food bar offers a chance to express your individuality as a host while providing an interactive experience for your guests. The beauty of the candy display lies in its wealth of color and texture options, as well as a chance to tap into the nostalgia of childhood sweet memories.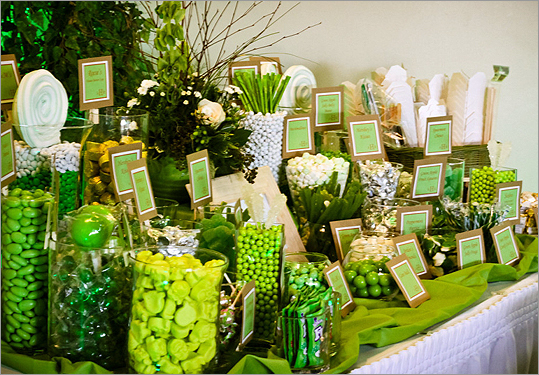 [both photo sources: All That Music DJ and Event Planning]
Here are some tips from the pros to create your fantastic candy display.
Plan your candy containers carefully. If you want to incorporate expensive chocolates in your display without breaking the bank, "look for jars that appear tall or large by having stands or stems on them but the actual fill space is smaller" says Sheila Aleman, VP of finance and marketing at All That Music DJ and Event Planning in Fitchburg, MA. Use mirrors in your display and use optical illusions to your advantage.
Pick the right tools to serve your candy. Make sure all your vases and containers have wide enough openings and provide the appropriate type of tong or scoop for each candy type.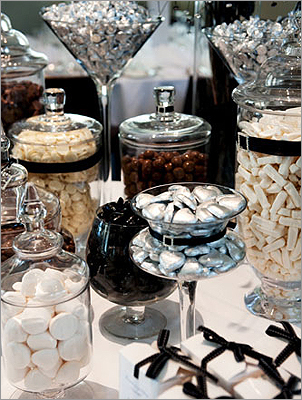 Create a theme for your display. Stick to three candy colors or fewer to create a cohesive design for your table. Use one candy type per container for maximum effect. Add minimal accessories to highlight your color or theme.
Consider your guests when choosing your candy. Include candies that may be reminiscent of your childhood or a geographic area (doesn't get more iconic than salt water taffy for a Cape Cod event!) Suggested quantities are:
1-50 guests: 5 jars candy
50-100 guests: 10 jars candy
100-150 guests: 15 jars candy
150-200 guests: 18 jars candy
Over 200 guests: 20 jars candy
Label your sweets. Be sure to have clear labels on all containers to alert guests with allergies or who may be gluten-free. Labels should have a cohesive style and are a great way to further tie in the table's color palate or theme.
Keep your jars stocked. Be prepared for an initial rush within the first 15 minutes that your candy table is open for business. Delegate someone to monitor your jars and refill them as necessary. A final tip for refilling: when a jar is empty, remove the entire container and bring it back full. Your guests won't miss a single candy jar, but they will notice someone standing at the table filling jars from a bucket of candy!
Creating a candy display may be one of the most fun aspects of your wedding planning or holiday party planning activities. For wedding invitations or holiday party invitations, consult the growing selection of customizable designs available at LookLoveSend.com.