What makes a bride? White dress and floral bouquet? Not necessarily. Veil? Absolutely. Whether it's a homemade veil on a bachelorette out on the town, or a beautiful train adorning a designer gown, the veil is the single-most iconic symbol of the bride. And while wedding dress selection may be the most fun part of the wedding planning process, finding the perfect veil to complement that dress is of equal importance.
Here are a selection of the most common veil types and tips for the selection and wearing of each.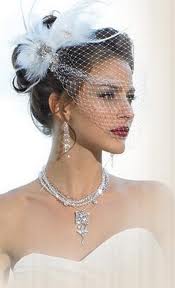 Birdcage: a short veil worn only over the face, often made from a wide-holed net.
Best worn with: 50s style dresses and hair in a tight bun.
How to wear it: secured with a comb at the front of your head, either straight or to the side.
Flyaway: a multi-layered veil that touches the shoulders.
Best worn with: cute short dresses, especially great for daytime weddings.
How to wear it: right on top at the crown of your head, either with hair up or down.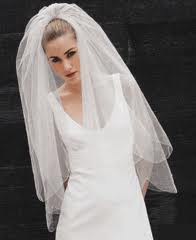 Fingertip: falls to the spot between the hip and mid-thigh.
Best worn with: classic a slim-fitting gown or fishtail gown.
How to wear it: with hair up or half-up so there is a stable spot for comb attachment.
Cathedral-length: also known as train-length, this is the most dramatic veil that trails the bride.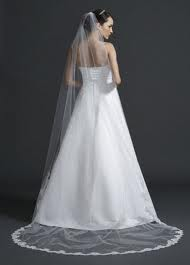 Best worn with: Any long dress.
How to wear it: usually positioned at the back of the crown. Try to get the longest layer placed on a detachable comb so it can be removed after the ceremony leaving the shorter layer for the reception.
Mantilla: a floor-length Spanish-style veil, often made of lace or tulle with a lace edge.
Best worn with: traditional lace dresses with a form-fitting silhouette.
How to wear it: a few inches behind your hairline to frame your face, veil sits flat and is attached with a small flat comb.
Finding the perfect veil truly is the icing on the cake. Allow your veil to complement your wedding style, and if you have yet to select a wedding invitation design, checkout the broad selection at LookLoveSend.com. Join our mailing list to receive 20% off your first order.