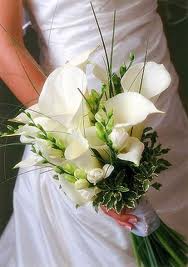 The 19th Century poet Park Benjamin, Sr. famously declared that "flowers are love's truest language" and at no time do these words ring more true than at a wedding. Flowers can often set the tone of the entire wedding but they also represent a sizeable 5-15% of the entire wedding cost [source: weddinggarden.com] so it is wise to carefully research and plan your wedding blooms.
Here are some tips for cost-effective wedding flower selection.
Flowers that should be available year round are roses, orchids, tropical flowers, lilies and gerber daisies.
Use flowers that are in their normal flowering season for better quality and lower cost.

For winter, orchids often have the best availability and pricing.
For spring, selections such as peonies, tulips and hyacinths offer an assortment of fresh colors.
For summer, traditional selections include irises, stock, snapdragons and delphiniums.
For fall, choose dahlias andchrysanthemums. Those distinctive orange Chinese lantern fruits (Physalis) are a great centerpiece choice.

If your wedding is around Valentine's Day or Mother's Day – peak flower price days – ensure your florist will have capacity to supply your arrangements and confirm firm pricing ahead of time.
To reduce bouquet costs, consider incorporating non-floral elements such as gemstones, feathers, and seasonal fruits.
For reception site arrangements that may be lower cost, consider potted plants such as gardenias, mini roses, hydrangeas or calla lilies.
Your flower selection can be harmoniously incorporated into other wedding details such as wedding invitation design or wedding cake embellishment. See our collection of floral-inspired wedding invitations, orders with a quantity of 50 or more ship for free!