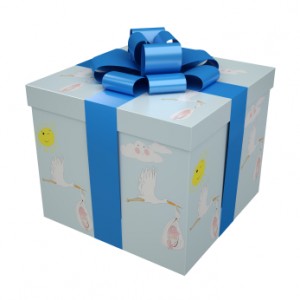 Have a baby shower invitation in hand and want to give something extra special and useful for a first-time mom? The baby blog universe is overstuffed with the latest must-have baby shower gifts. From fancy, overpriced diaper bags to the latest homemade food prep gadgets, there are a lot of products to be had for the money. But in addition to expense, many of these gifts may not appeal to every first-time mom and may not even ever get used.
But EVERY first-time mom can benefit from some veteran mom gift ideas they have either given to themselves or  received as first-timers. Here are our top 3 suggestions for highly practical first-time mom baby shower gifts:
Get Ready for Baby binder This is an instruction binder to prepare the first time mom and organize her (and her partner) for the trip to the hospital. It can be as simple as a home-compiled collection of pre-printed tabs, laminate sleeves (to hold paperwork) and three-hold punch paper (for making notes). Dress it up with a personalized cover slipped into a 3-ring binder, and you'll have a unique gift that will appeal to either a perfect Type A mom, or better yet, the disorganized, last-minute, haven't-got-a-clue mom (trust me). Score extra points if she goes into early labor and has hubby grab the binder for the pack list when they find themselves scrambling to get to the hospital! Include pre-printed pages with lists and tabs for things like:

Packing Checklist (check out this Parents.com video on what to pack)
Medical Insurance Information
Contact Phone Numbers
Visitor & Gift Log
Baby's Feeding Journal
Medications List

Emergency car kit Keep the new mom (and dad) ultra-prepared beyond the trip to the hospital with a portable car travel bag filled with essential supplies. A wipeable, vinyl tote or duffel stuffed with travel essentials is another thoughtful, unique gift you can pull together on your own. The costs can add up, so ask other baby shower guests to contribute items, and you supply and organize the bag.Essential car travel gear should include:

Disposable diapers (multiple sizes) and diaper changing pad
Baby diaper wipes
Scented disposable diaper baggies
Hand sanitizer and wipes
Washcloth and small bottle of baby body wash
Tissues and bulb syringe
Single-serve powdered formula packets and fluoridated water bottles
Bottle, pacifier & teething ring
Change of baby's outfit and top for mom (spit happens)

Feeding/breast care supplies First time moms, unless they've taken the time to attend a breastfeeding class or really done some homework, are overwhelmed and underprepared when it comes to breastfeeding. Nothing in life prepares us for this encounter. So help her out by stocking her up ahead of time with breastfeeding basics, including:

Breastfeeding tent (to provide modesty during breastfeeding)
Lanisoh nipple cream
Breast pad inserts
A new eco-friendly water container to stay hydrated (such as Klean Kanteen brand)
Gift card for a quality nursing bra (such as Bravada brand)
When it comes time to organize the baby shower, browse the adorable collection of baby shower invitations available through www.looklovesend.com. All shower invitations also have coordinating baby thank you notes, which make another very useful gift for the first-time mom. Invitations and cards can be personalized and are printed on premium quality papers. Order 50 or more and receive free shipping!