Burgers and beer…
Hors d'oeuvres and cocktails…
Dessert and wine…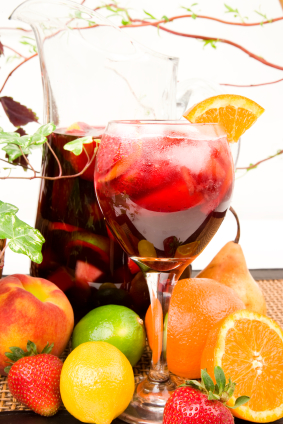 Summer is a time for parties and beverages are a natural extension of the food menu selected for the celebration. But setting up the bar for your next summer party doesn't have to break the bank. Reduce your bar tab by following any of the simple suggestions below:
Rather than stocking a full bar, consider selecting just a single liquor, such as vodka with a wide assortment of mixers.

Create a signature drink to honor the special party guest or occasion, if you have one.A pitcher of sangria or punch-filled bowl can both be beautifully adorned with fresh fruit as garnish, and also provide an opportunity to add non-alcoholic mixers to increase servings at a lesser cost.

If your celebration includes a champagne toast, select a more inexpensive sparkling wine such as an Italian prosecco for less than $20 per bottle.

Provide interesting non-alcoholic beverage options such as natural fruit sodas, homemade lemonade, and a variety of sparkling waters.Arrange these drinks in buckets of ice for a more enticing presentation.

Consider discount stores such as Sam's Club or BJs for your beer and wine needs.Find out ahead of time if the store will accept any unopened bottles for return after your event.
So keep your food and beverage pairings, just adopt one or more of these suggestions to help reduce your next summer party bar tab. Cheers!
Need ideas for your next summer celebration? Checkout our summer series for great party theme ideas. And if you are looking for unique invitations for your next summer party, see the growing selection of party invitations available at LookLoveSend.com. Subscribe to our mailing list to receive 20% off your first order.