Who first came up with the expression that it's lucky to rain on your wedding day? Probably some kind bridesmaid of some devastated bride whose special day was ruined by rain clouds.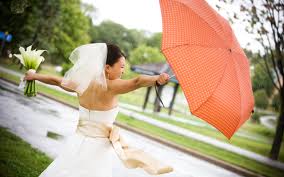 It rained on my own wedding day – the only rainy day in an otherwise fabulously sunny August – and I can't tell you how many people assured me it was a sign of good luck. Well-meaning, but not exactly what I wanted to hear at the time.
So whether you live in Seattle or Hawaii, it's always a wise to have a backup plan in the event of bad weather on your wedding day. And where else to get some great tips, but from a British bridal magazine [You and Your Wedding, July/Aug 2011].
Love your backup plan:

If you invest equal energy in your plan B, then chances are you won't be too disappointed if it needs to spring into action.

Stay optimistic:

weather can easily change. If part of your celebration is planned for outside, ask your wedding coordinator or reception site manager to keep an active eye on the weather so clearing skies may allow the event to move back outside.

Look into creative coverings:

Research tents with side flaps that can be dropped in the event of rain. Consider a canopy to shield outdoor spots from extreme sun and heat. Consult your reception site manager for options.

Bring the outside in:

If you're looking for a natural or rustic setting but don't trust the weather, add an abundance of blooms, branches and foliage to your interior setting. Search websites for natural place setting ideas and decorative touches.

Plan for alternative photo options

: pre-select some indoor photo backdrops. If your heart is absolutely set on having outdoor wedding photos, consider a post-wedding shoot. Probably can't ask the whole bridal party to get back into their wedding attire, but booking your photographer for 1-2 hours at a later date could be a way to get those newlywed outdoor pics.

Don't forget the umbrellas:

invest in several large golf-style umbrellas to protect dresses and hairstyles, especially from limo to wedding site for that first grand entrance. Select decorative or colorful umbrellas that coordinate with the wedding theme  - you're bound to find one you love at http://www.ellaumbrella.com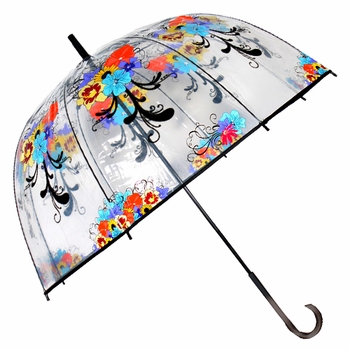 are dropped in the mail, brides universally hope for good weather on their special day. But whether Mother Nature cooperates or not, it is important to let it go, focus on the 101 other things that go according to plan, and most importantly to enjoy your special day.
If you are planning a wedding and have yet to select a wedding invitation design, checkout the growing selection available at LookLoveSend.com. And if your wedding will be in 2012, enter our sweepstakes for a chance to receive a free wedding invitation suite of your choice.