If you are knee-deep in wedding planning details it can be fun to pause and see some wedding-related statistics. Below are some number-based facts; how do yours compare?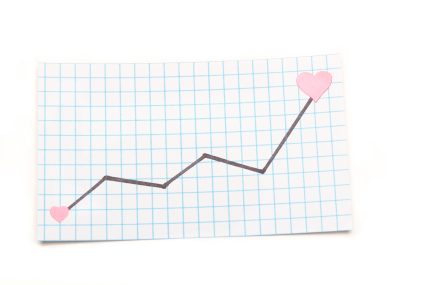 The average American engagement is 16 months.

The most popular month to get engaged is December, accounting for 1 in 5 engagements.
The average engagement ring costs $5,847 and 70% of brides-to-be are presented with a traditional diamond.
Each year an average of 2.4 million weddings are performed in the U.S.
The average wedding has 175 guests.
20% of weddings are formal or black tie.
The average number of bridesmaids and groomsmen is 5 of each.
The 1st choice wedding cake is chocolate devil's food cake with vanilla buttercream.
The top wedding destination is Las Vegas, the site of 100,000 weddings per year. Valentine's Day and New Year's Eve are the two busiest "marriage" days in Las Vegas.
The number of wedding after-parties has increased by 11.5% in one year. In 2009, 30% of couples stayed late partying with their guests.
The top 10 "first dance" songs include The Way You Look Tonight, Just The Way You Are, Come Away With Me, Unforgettable, Wonderful Tonight, From this Moment On, This I Promise You, Thank you For Loving Me, Don't Want to Miss A Thing, and All I Ask of You.
The average couple will spend three times more on their honeymoon than a regular vacation.
LookLoveSend.com can help with one aspect of your wedding planning byoffering beautiful collections of quality wedding invitations by award-winning designers. Sign up now to receive 20% off your first order.
Fact sources: The Knot, National Association of Wedding Ministers., BravoBride, Emily Post's Wedding Etiquette.