Although the warmer months are traditionally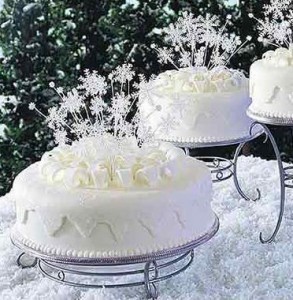 more popular for weddings, more and more people are choosing to get married in the winter. A blanket of fresh white snow is the perfect backdrop for wedding pictures, and the chilly weather gives you an excuse to cuddle up with your spouse. If you want to make sure that all of your loved ones are able to attend your wedding, the holiday season is the perfect time to have it since most people will be on vacation.
One of the most exciting parts about getting married (besides the ceremony, of course!) is planning the wedding. This is your chance to make your dreams come true. From the wedding invitations to the flowers, everything about your wedding should express you and your spouse's tastes. Planning a color palate for a winter wedding is especially easy, because everything goes with white! So don't be afraid to use your favorite colors, even if they're not traditional Christmas colors.
Bold colors are very popular right now. Pantone recently chose Tangerine Tango as their 2012 Color of the Year. When using a bold color for your winter wedding planning, you want to choose a neutral background, such as white or black. For a winter wedding, white linens with accents in your choice of color is an obvious choice. By using white as a background, you're incorporating a winter wonderland theme into your wedding without overwhelming guests with too many bright colors. Remember, you want all eyes to be on you during your wedding ceremony and reception, so don't draw too much attention to your decorations.
If bright, bold colors aren't your thing, or if you just can't decide on one color, try using cooler colors. Sparkling blue, purple, and silver all blend very well with a white background and will give you a little more wiggle room to experiment with different colors.
If you live up North where there's a possibility of snow, then a white background is a natural choice. But what if you live in an area that rarely, if ever, gets any snowfall? After all, it doesn't make sense to have a winter wonderland themed wedding if you know there's not going to be any snow. Brown is a surprisingly easy color to incorporate into weddings. Think outside the box; tree branches can be used as centerpieces, or you could make your bouquet out of dried flowers.