Congratulations on your engagement!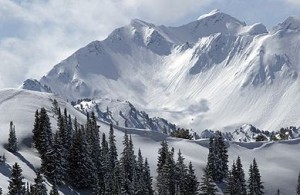 Now the fun begins! Planning your winter wedding should start at least 6-months in advance to ensure all details are well researched- especially if you are planning a destination wedding. Your first task is to decide on a date and mail out your "Save the Date" cards. Save the dates are essential parts of wedding planning, especially for those who will be married in a location outside of their home town. By giving your guests plenty of notice, they'll be more likely to join you on your special day.
Next, you'll want to consider the venue location. If you already reside in an area that gets plenty of snow fall, scout out locations near you. For everyone else, consider these top 5 hot spots.
Aspen, Colorado
Known as the wealthy's playground, Aspen offers world class shopping, intimate restaurants with 5 star menus, and luxurious accommodations. Conveniently located downtown, the Sky Hotel offers breathtaking views of the mountains, making this the perfect venue to host your ceremony and reception.
Park City, Utah
An intimate downtown features high end boutiques and fancy cuisine. Consider the Park City Mountain Resort for your venue. They offer three ceremony locations to choose from and their Lodge can easily accommodate your large party reception.
Lake Tahoe, California
Consider something completely unique by holding your wedding and reception aboard the Tahoe Bleu Wave and exchange your vows in the middle of Lake Tahoe itself. This is the perfect choice for small weddings, yet still offers a unique, winter theme. If your guest list is a bit larger, consider the Edgewood Tahoe Golf Course. The exquisite interior of the clubhouse and beachside patios offer the perfect backdrops for your ceremony and reception.
Big Sky, Montana
If you're looking for a true, Western feel for your wedding, consider the Rainbow Ranch. Its mountain valley, river front location offers an intimate Old West feel that is sure to make your day memorable, yet relaxing.
Telluride, Colorado
Nestled inside the Rocky Mountains, Telluride offers breathtaking views in every direction and from any location within the small town. You can't go wrong with any venue here!
No matter which location you end up choosing, relax and remember this is your day. Take your time and enjoy the process, knowing that you are about to enter the best journey of your lifetime.