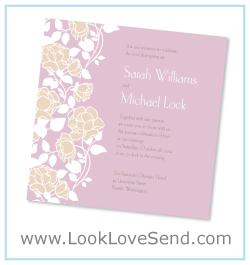 Making an event special starts before the party even begins, that's when knowing how to create your own invitations is helpful. Adding distinctive, personalized touches to an invitation, whether it is for a birthday party, wedding, baby shower, or graduation, will give the proper impression that this event isn't just another party, but is truly a cause for celebration. At LookLoveSend we know you want the invitations you send out to convey the spirit of the occasion. Since there is more than one way to achieve personalizing invitations and create your own invitations, we've done everything we can to make sure you choose us to assist with your creation.
Learn How To Create Your Own Invitations On Our Site
Sure, you can opt for the glue stick and the construction paper if you decide to make the invitations yourself. While there is no arguing that the end result will definitely be out of the ordinary and there will be no question that you made them yourself, LookLoveSend can offer you a quicker, cleaner way to create your invitations, and the end result will look professional and impressive. When you let us show you how to create your own invitations with the interactive software on our website, you'll be making little works of art that will be as memorable as the party itself.
We've got designer templates for any type of invitation you need. Birthdays, bridal showers, weddings, graduations, even a block party barbeque, at LookLoveSend we can show you how to create your own invitations for them all. We've gone the extra mile to assure your satisfaction with doing it yourself by providing the best quality paper and inks, shipping orders the next business day, and backing it all up with a 100% satisfaction guarantee. Let us help you make professional invitations with just a few clicks of your mouse. The end result will be fantastic.