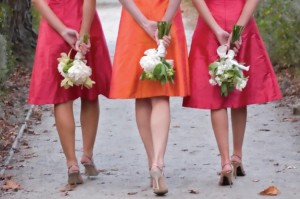 Brides love lists. And a helpful maid of honor or bridesmaid will likely have task lists of her own: help bride shop for wedding gown, send out bridal shower invitations, put together an emergency supply kit for the wedding day.  For all the support that a bridesmaid offers the bride in the months leading up to her big day, here are 6 ways a bride can return the favor and keep her maids extra happy.
Allow bridesmaids to bring a guest.  Even if a bridesmaid isn't in a serious relationship, allow her to bring a date and allow them to sit together at the reception.
Let bridesmaids pick their own dress.  Choose a color to fit the style of your wedding but allow each girl to pick her own dress.  You'll end up with a happier wedding party wearing dresses they feel comfortable in and will probably be able to wear again.
Don't require a wedding party dance.  In all honesty, guests really only want to see the newlyweds dance.  The father-daughter and mother-son dances are a lovely touch if you so choose, but unless you have a particularly close-knit and outgoing bridal party, don't force that number.
Pay for updos. If you want your bridesmaids to wear a specific style or something that requires salon help – pay for it.
Let bridesmaids pick their own shoes.  Again, if you want your maids to wear matching shoes, pay for them.  Otherwise specify a color and let them wear their own.
Remember the gifts.  Buying a nice piece of jewelry is always a good choice, but consider a personalized gift for each girl for an even more meaningful gesture.
Check wedding stationery off your to-do list by shopping the growing collection of bridal shower invitations, wedding thank you cards, or wedding invitations at LookLoveSend.com.  We have custom wedding invitation designs to suit every wedding style and all are printed on high quality paper stock.  And enter our monthly sweepstakes below for a chance to win $500 off your wedding stationery order with us!