Have you always envisioned a wedding that involves many children? Apart from the obvious flower girl, ring bearer or junior bridesmaid duties, there are many other roles that your youngest guests can beautifully fulfill. Below are some guidelines and suggestions for how the special children in your life can share in your special day.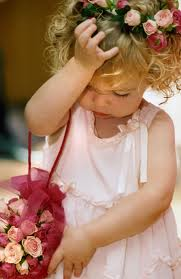 Flower Girls and Ring Bearers: These traditional roles are typically held by 3 - 7 year olds. While flower girls and ring bearers are beloved by wedding guests, if the thought of any potential reluctance to walk down the aisle horrifies you, it is recommended that they are escorted by a member of the adult wedding party. If your ceremony is particularly solemn or long, consider having your flower girl and ring bearer sit in the front row rather than standing upfront with the rest of the wedding party.
Older Children:If older children are excited to participate in your wedding ceremony, feel free to include them however you wish. There are no hard and fast rules for this. Bridesmaids, junior bridesmaids and ushers are traditional options, but some other great roles are listed below [source: www.wednet.com]
Hand out wedding programs or directions to the reception
Serve as altar boy or altar girl
Greet guests
Turn pages for the musician
Carry the bride's train
Hand out flowers to guests or scatter rose petals
Help take care of gifts at the reception
Take candid pictures of the family and bridal party
Follow the photographer around, pointing out special people to photograph
Play a musical instrument or solo
Help guests find their seating arrangements
Present wedding favors to guests
Help serve the wedding cake
Be in charge of the guest book
When clothing your youngest wedding party members, be considerate of this additional expense to their parents – most of whom are probably already buying their own outfits for your special day! Consider allowing girls to recycle a fancy holiday or First Communion dress, or allow them to wear a party dress that can be re-worn before it is outgrown. Parents of boys may appreciate a jacket and slacks option that is more likely to be worn again, rather than a mini-me version of the groom's tux.
If you are planning a wedding and still need to select a wedding invitation, checkout the diverse collection available at LookLoveSend.com. And ifyou are getting married in 2012, enter the Wedding Invitation Suite Sweepstakes to win a complete wedding invitation suite up to a $1500 value.