Rarely overlooked in the details of planning baby showers is the baby shower cake. In fact, the cake can be the centerpiece of the celebration, coordinating baby shower invitations, decorations, shower games and even gift ideas. The best cakes today don't have to be as fabulous as the two, towering, artistic creations flanking the center cake in the photo below.
 
 
 
Cupcakes are a simple yet beautiful way to create a unique cake.
Inspired by Shel Silverstein's classic tale of the cycle of life,

The Giving Tree

Ever popular polka dots in classic pastel colors charm this cake for twin boys
In fact, we think the best cake IS the cake in the center (photo above). A special story-inspired cake is a growing trend, whether it's a nursery rhyme, Beatrix Potter, a Disney classic or some other story special to the mother's heart (The Velveteen Rabbit anyone?).
Like story cakes, cake themes can be inspired by nursery decor or simply reflect the tastes and uniqueness of the mom-to-be. After all, while baby shower gifts are generally geared towards baby, there is no doubt that a baby shower should also be much ado for the expecting mom.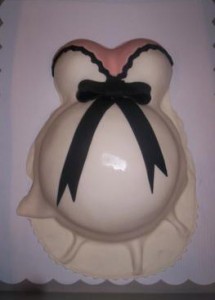 To this end, more women are looking for cakes that do celebrate the mom-to-be as much as the baby she's carrying. So while some may consider the "belly cake" trend a bit creepy (photo at left), it is one of the increasingly requested type of cakes.
Besides the belly cake and story theme, other noticeable baby shower cake trends include:
Packages (ribbon, bows, polka dots)
Blocks
Cute critters (frogs, bunnies, etc)
Baby animals (elephants, giraffes, lions, etc.)
Fun shapes (moon, stars, strollers)
Another growing trend is that a cake needn't be a cake at all. Cupcakes, like the beautiful pink teapot tiered display featured at the beginning of this blog, can be used in the most creative arrangements.
Wherever you draw inspiration for your own baby shower or for a friend, you can find equally inspiring ideas for baby shower invitations at www.looklovesend.com. All invitations also have coordinating baby thank you notes, and are printed on high quality, premium weight papers. If you order 50 or more you receive free shipping!