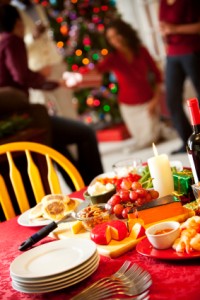 Are you overwhelmed at the thought of organizing a holiday party this year? There is plenty of time before the holiday party invitations go out, so we've dug up a few helpful checklists to help make the thought of party planning more palatable.
Our Checklist Treasure Trove
A-Z Planner Get started with this clear, clean and simple plan-ahead checklist from Real Simple magazine. True to their style, it makes party planning a cinch. We especially love their take on:

A stress free menu! This means stuff you can prepare ahead of time, leaving only the tasks of warming, assembling and arranging for party day.
Outsourcing! This could be rentalware (such as barware and linens) or hired help like a bartender or kitchen help (and it doesn't have to be professional–think responsible neighborhood teen)
Meal Planner

Whether you cook yourself, hire a caterer, or have friends and neighbors bring dishes, here's a terrific printable holiday meal planner for organizing your meal. The best part about this planner is you can use it for any party meal, not just holiday!
Beverage Planner

Conquer your biggest expense with this cocktail party checklist from Marie Claire magazine. The professional party planners behind this checklist provide specifics tips for stocking a successful holiday bar, including:

Types of alcohol and proportions for different kinds of guests (beer, wine, hard alcohol)
Mixers and bitters
Quantities driven by guest count estimates (25 – 100)
Barware tools
Money saving tips (such as pre-prepared cocktails, disguising inexpensive brands)
The best thing about these checklists is they'll work for any kind of holiday party, from a neighborhood potluck open house to a formal dinner party.
To find a fresh, fun holiday party invitation, check the original designs available at www.looklovesend.com. Holiday party invitations can be customized with photos and your text and are printed on high quality paper stock. Get free shipping when you order 50 or more invitations.