August can feel a bit schizophrenic. It's still summer; vacations and festivals are in full swing, but so are back-to-school sales and tax holidays. Kids in many regions are breaking in their new shoes and backpacks. Some have even walked to the bus-stop for a few days already. (Shout-out to you, Atlanta!)
So what if your child has a birthday in the first month or two of the school year? There are some definite pluses to putting on a birthday party in the late summer/early fall season. But beware of some pitfalls to manage as well.
Here's a look at what some of us with fall babies should consider: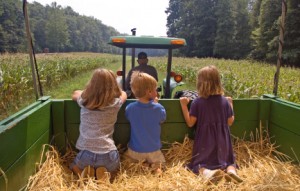 Fall Birthday Party Pluses
Unbeatable weather This is true nearly everywhere, except for lingering heat in the south and southwest. Consider outdoor venues such as the beach, lake, pool or amusement parks. Recruit local high school players to help organize drills and mock play of a typical fall sport, like soccer, football or cheerleading. Create an obstacle course in your backyard or take kids on a scavenger hunt hike.
Special rates As an add-on, many outdoor venues that are seasonal offer discounted rates after labor day.
Seasonal change The transition from summer to fall means new forms of food and fun. As fall draws on, picking (or dunking for) apples, carving (or decorating) pumpkins, and hayrides are great party options for kids of all ages.
Re-energized kids The long summer break and back-to-school excitement virtually guarantee excitement over the first birthday parties of the year. These kids are hungry to play!
Fall Birthday Pitfalls
New school year While this can mean new friends, it depends how fast your child makes them. New faces and unfamiliar parents can make classmates tough to pick for the guest list, and you may not have parents' contact information. Many schools restrict selective birthday invitations in the classroom, so you either have to invite everyone or get in touch with parents.
New routines Kids are working through new schedules and could tire more easily than in the summer, when it seemed like they could go all day forever! Think carefully about planning a weekday party, but also be aware of fall sports on weekends.
Find the perfect birthday party invitation at looklovesend.com, where a growing selection includes party invitations suited from baby's first birthday through kids up to teens. All invitations are printed on high quality paper and may be customized with text and a photo. Join the email list and receive 20% off your first order.