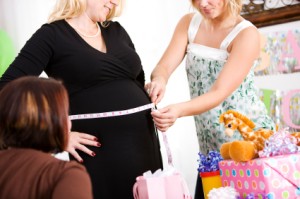 Hosting a baby shower in the next few months? Whether you are the expecting mom or her family member or friend, here's a quick and easy planning checklist to help make sure you cover your bases:
Find out what type of shower the mom-to-be wants…something intimate with family and close friends, or a bigger affair with an extensive guest list.
Set a date that works for you as host, the mom-to-be, and key guests, such as family and close friends.
Get a detailed guest list, complete with names, addresses and/or emails.
Find and book a venue, whether someone's private home or a more public area such as a restaurant or event space.
Consider choosing a theme that appeals to the mom-to-be. Theme ideas could be inspired by the planned nursery decor, a favorite children's book, a color scheme, or even a gift theme such as starting baby's book collection.
Order baby shower invitations and get them out in a timely manner. Try to allow for six weeks, but no fewer than four weeks before the shower date. Be sure to include an address and a single contact phone number and email for RSVPs.
Suggest a menu and check with the mom-to-be about any food allergies she has or may be aware of with her guestlist. Don't be afraid to ask other guests if they would like to contribute either monetarily or by bringing a dish. Everyone likes to be involved!
Plan a few games and ice-breakers to engage and entertain everyone while the guest of honor opens her gifts. For great games ideas like Baby Bingo, Guest the Baby Photos, How Big is Her Tummy, and others, as well as details and links to pull them off, check out include www.babyshower101.com.
Assign a reliable guest the duty of documenting the gifts opened and gift giver names for easier thank you note writing later.
To find the perfect baby shower invitations, check looklovesend.com for fresh, fun designs printed on quality paper. All shower invitations also have coordinating baby thank you notes, which make a great gift for the guest of honor! Subscribe to the email list and receive 20% off the first order.