"Congratulations on your engagement!" That's what they're saying, but is that what they're thinking? We're not talking about whether or not they like your fiance. We are talking about whether some friends get nervous about the expense of being asked to be in the wedding party.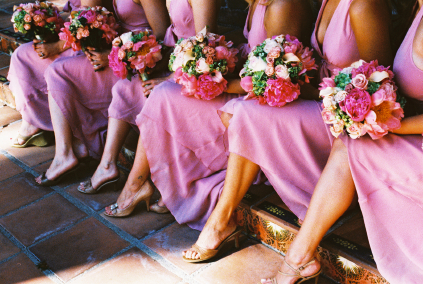 While the wedding costs grew in the 1990′s and up to 2007, in a more tenuous 2011 economic environment, spending is noticeably down to 1999 levels, according to the latest U.S. Wedding Cost Update, available on TheWeddingReport.com.
This means today's engaged couples need to consider more carefully than ever the expenses that their wedding party attendants will bear. This is especially true for the bridesmaids, whose attire is not usually rented, and whose beauty regimens tend to be more involved than those of the groomsmen.
The costs of being in a wedding vary of course. But the general rundown of bridemaids' responsibilities typically incur the following costs:
Attire Dress and shoes are obvious, but don't discount the need for special undergarments some dress styles will require, alterations, and even accessories. Many brides choose to give accessories they want their bridesmaids to wear as gifts.
Salon/spa appointments There is a strong tradition of bridal spa parties before the ceremony for hair, make-up and even mani-pedis, but unless you are requiring up-do's, let your bridesmaids choose which services they want (and can afford).
Travel & meals Travel expenses vary in range depending on air, train or car, but with gas prices so high, be considerate of your long-distance bridesmaids. And because a wedding is not typically just a 24-hour affair for the wedding party, with pre-wedding parties, the rehearsal dinner, and a bridal luncheon, there will be meal expenses as well.
Accommodations According to Emily Post, the bride and groom should cover accommodations for their wedding party attendants. This may not be feasible for all couples' budgets, so consider arranging roommates, find the best deal, and most importantly, discuss this cost specifically with each individual so you can at least chip in if needed.
Pre-wedding Parties Depending on what various parties are planned, bridesmaids can find themselves chipping in on everything from wedding shower invitations to luncheon tabs to group activities for the bachelorette party.
Gifts At a minimum, a bridesmaid will need to purchase a wedding gift for the couple, as well as a wedding or bridal shower gift. One way to reduce costs for each of these gifts is to go in on a group gift with other bridesmaids. Or, consider putting your talents to a heartfelt homemade gift or pledging to give your time to help with something relevant, such as moving, home renovations, or even writing wedding thank you notes!
To help keep your bridesmaids from feeling like receiving your wedding invitation is like receiving an invoice, keep a budget in mind as you plan the details, and encourage constant communication with them. Your maid of honor could be an excellent assistant to you in this area if you need a bit of a buffer for difficult conversations, or if you are simply to bogged down with other details.
You may find yourself in a similar position someday soon.
For help finding wedding invitations or other wedding-related party invitations, browse the beautiful collections available at LookLoveSend.com. If you or a bride you know has a wedding date set for 2012, check out LookLoveSend's wedding invitation sweepstakes for the chance to win a wedding invitation suite up to a $1500 value.