The team at LookLoveSend likes quick and easy party planning.  We've got stylish party invitations for all occasions covered, we like simple make-ahead refreshments, and we recommend creating a single signature food or decoration to fit your event.  Better yet, create a signature decorative food centerpiece for your special celebration.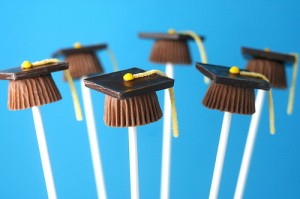 If you're planning a graduation party in the upcoming weeks, we recommend these easy graduation cap dessert treats by online bake guru bakerella.  The ingredient list is short and the treats can be customized to match school colors using different flavors of the Airheads Sour Belt candy (used for the tassel).  Attach the candy caps to simple lollipop sticks stuck in a styrofoam block as a fun centerpiece for your buffet table or bag the sweet treats and offer them as party favors as your guests leave.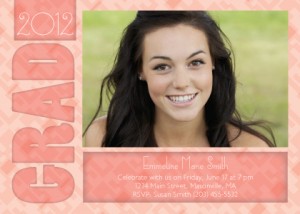 For stylish graduation party announcements, checkout the fresh selection at LookLoveSend.com.  Each design can be easily customized online and many include a photo of the grad like 'Graduation: The Big Day' by designer Jennifer Pritchard shown above.  All cards are printed on superior quality paper stock and orders ship the next business day for stress-free ordering and mailing to your party guests.