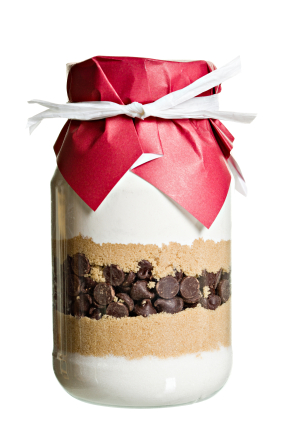 This summer we blogged about canning sweet summer berries and other seasonal fruits to create mouthwatering Christmas gifts that will add extra spark to your Christmas card messages. We love the idea of homemade goodies packaged in a pretty jar because they are both budget-friendly and useful. When you know your recipient well enough, you can also really target something you know they'll especially love!
If you missed out, and fall's harvest offers as many options as summer did, maybe more as fall naturally leads into the month-by-month holiday trifecta that includes Halloween, Thanksgiving and Christmas. October has just begun, so there's plenty of time to prepare. Whatsmore, most of these dry mix ingredients keep a long shelf-life, so you can start now!
Muffin Mixes. You jar the dry ingredients, attach the recipe, and your recipient simply adds a few wet ingredients (commonly some egg, oil or water.) Get started with this apple muffin recipe, or use your own favorite recipe.
Holiday Drink Mixes. This involves mixing of dry, powdered ingredients and recipes will yield several gift jars. Try this tasty mix for amaretto cocoa and attach the recipe.
Soup Mixes. Nothing signals autumn like a hearty bean soup, and the colors in this layered dried bean soup mix recipe make a beautiful jarred gift.
To adorn your jars, include the recipe along with information about storage and serving sizes. You can use either adhesive labels or tie on a card with holiday ribbon depending on how much information you need to provide, or do both. If you don't already collect jars through the year, you can find traditional mason jars at a local dollar store or Walmart.
To find Christmas cards to accompany your gift, or to mail separately, check the growing collection available at www.LookLoveSend.com. Look also for a post about LookLoveSend's wonderful holiday card collection by renowned mommyblogger Emily Hill on her website, www.isthisreallymylife.com. When you read her blog on Tuesday, October 4th, you can enter her giveaway contest for a chance to win a $75 promotional coupon towards your LookLoveSend holiday order.