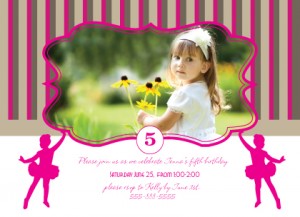 Sometimes it's smart to think beyond the basic birthday party invitation information in order to head off potentially sticky party situations. Most kids party invitations prompt you to write:
WHO the party is for–the birthday child. WHEN the party will occur. Include both date and time. WHERE the party will take place. Provide an address whether the party is in your home or elsewhere. RSVP with your name, phone number and an email address.
But it's also helpful to anticipate questions or prevent unwanted situations, such as serving a dish some guest is allergic to or having to put up with a younger sibling interrupting the activities. Sometimes you need extra parents and other times you don't want to be distracted by the need to chat up another adult.
Here are common issues you could anticipate and some suggestions for thoughtful wording on the party invitation to address them:
Allergies Depending on how well you know the party guests, it's a good idea these days to let parents know in general terms that food will be served. You don't have to be specific, but a concerned parent can at least get in touch with you if there is an allergy concern.
Sibling guests If you absolutely do not want additional guests in the form of an invited guest's siblings, it's a good idea to say so. A direct statement such as, "Please no siblings," works as well as a slightly more tactful, "for invited guests only" tagline at the end of the RSVP.

Parents staying (or not!)

Depending on your needs, you may want to encourage parents to stay to have extra help. If not, and if you don't want the added expense or pressure of entertaining additional adults, say so specifically by telling parents what time to pick up their child. If you are "encouraging parents to stay," be ready with refreshments for them too.

Money needed

Depending on the birthday party theme or venue (restaurant, movies, amusement park, etc.), you may need guests to pitch in on the costs of the party, such as buying tickets or having extra spending money. State those costs on the invitation, and if adults or siblings are welcome, make sure you let them know how much additional guests will cost too.

No Gifts

More and more party hosts are asking for donations to a special cause in lieu of gifts, so be explicit in the invitation. If you simply don't want extra stuff, and you have a child mature enough to be on board with this, simply add "No gifts please!" at the bottom.
Now to find the perfect party invites for your child's next birthday, shop the selection of fun styles at www.looklovesend.com. You can easily personalize invitations online, and if you join the email list, you'll receive 20% off your first order!