Sweetheart necklines. Embroidered applique flowers. Yawn. Recently I've been browsing through several U.S. mainstream bridal magazines and must say that the featured wedding dresses are becoming extremely predictable. After flipping through just two months-worth of magazines I can already "name that designer" and/or recognize the style of the most commonly featured dressmakers. Nothing I've seen so far has made me stop and wish I could re-marry my husband – this time in a different dress of my dreams.
But then I saw the July/August 2011 edition of British magazine You & Your Wedding and by the third page of ads I was immediately struck by how fashion-forward and unique the wedding dresses were compared to those featured in the U.S. magazines. It is common knowledge that European fashion is a season or two ahead of most American fashion, and this clearly also applies to wedding attire (remember those wild hats worn at the Royal Wedding?)
Below are a few of the magazine's featured dresses with designer credits. These designs are fresh, unique, and quite unlike what you'll find in U.S.bridal magazines.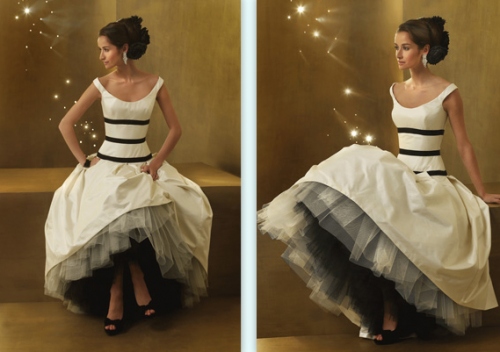 [source: designer Stephanie Allin, 'Pascal' in Dolce Vita collection]
[sources. On left: David Fielden UK Bridal. On right: Le Spose di Gio, Italy]
If you're getting married and enjoy the modern elegance and high fashion of these wedding dress designs, consider one of the modern wedding invitation designs available at LookLoveSend.com. Each is printed on high quality paper and would beautifully complement the style of your fabulous dress.