For many football fans, receiving a fall wedding invitation in the mail is not a welcome occurrence. Fall weddings are beautiful for the rich colors and flavors of this all-to-brief season. But ask millions of Americans what they like best about the fall and they will be quick to reply "football". And thus the wedding versus football debate begins.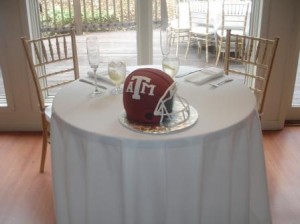 Look in the stands during any Big 10 college home game and you'll see thousands of superfans wearing school colors, painted chests and crazy hats who wouldn't dream of being anywhere else. Fast forward five to ten years when those superfans start getting married and going to friends' weddings. Can these fans attend the wedding and have their football too?
The answer is "yes" for more and more couples, says Sharon Naylor, author of 35 wedding books including "1001 Ways to Save Money and Still Have a Dazzling Wedding." Naylor has known couples to schedule their wedding around the big game or to allow TVs at the reception. Maybe that's not so bad if superfans are going to track plays and scores via their smart phones anyway? (A big maybe in my mind.)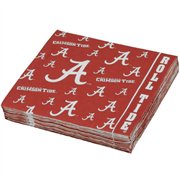 Other couples may plan a football-themed wedding by choosing team decor, a tailgate menu, or a cake bearing their team's logo. And for the Syracuse bride who doesn't love the idea of orange frosting on her wedding cake, there's always the groom's cake that can be shaped as the bright orange football helmet! For a more subtle football theme, incorporate team colors at the reception site or scatter small team-themed items such as cocktail napkins at the bar or tissues in the restrooms. (www.collegefootballstore.com has it all).
To fully understand the torment that a fall wedding can bring to some guests, read yesterday's CNN article testimony direct from one such football fan. And if you are planning your own wedding and looking for (non-football themed) wedding invitations, checkout the growing selection available at LookLoveSend.com. If you are planning ahead and your fall wedding date is set for 2012, be sure to enter our 2012 Wedding Invitation Suite sweepstakes for the chance to win a complete wedding invitation suite of your choice, valued up to $1,500.