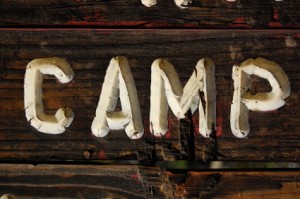 Here's a peak at our top five summer camp checklist items:
Sunscreen and bug spray
Toothbrush, tooth paste and soap
Swimsuit and goggles
Beach and bath towels
Stamped stationery notecards and pens
Stationery? This item might not be among the first that comes to mind when thinking about packing for summer camp. But if you are sending away a first-time summer camper to an overnight camp for more than three nights, consider it worthy to top the list.
A friend of mine clued me in to the idea. Packing pre-addressed, pre-stamped envelopes with colorful, fun notecards in my eight-year old daughter's suitcase may yield some actual letters! Many camps do not allow for any communication between parent and child during the camp session, either by phone, email or text. Old fashioned writing is really the only option. Among all the other independence-building experiences your child will have, why shouldn't learning to write letters be among them?
So with my daughter's help, we made a short list of recipients (she's only there for six days). I helped her address and stamp each envelope. We packed the envelopes back in the box with the blank notecards, tucking them in the pocket of her suitcase along with some reading books, her flashlight, and plenty of pens. I also encouraged her to write down the names and addresses of any new friends she thinks she might like to keep in touch with when camp ends. We'll see how this experiment in written correspondence goes.
If you are looking for exciting, fresh stationery, check the stationery design collections at LookLoveSend.com. All of our beautiful designs for wedding, baby, party and other special occasion invitations include notecards that may be personalized as stationery. Our growing collection of kids' birthday party invitations are a great place to start for summer campers. Join our email list and receive 20% off your first order!