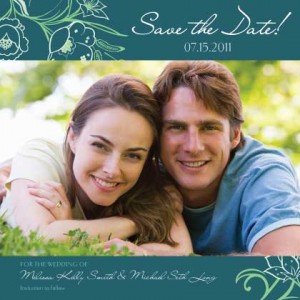 You are more likely than ever to hear it said, "If you receive a wedding invitation and did NOT receive a Save the Date card, you are not required to attend."
More of today's brides consider sending save the date cards a central component to their wedding stationery. At The Wedding Salon expo in NYC this week, three out of five brides inquired first about Save the Date cards when looking at wedding invitation collections.
It's become more than common courtesy for brides to give guests anywhere from at least six to as many as twelve months advance notice of upcoming nuptials. Brides and wedding planners are finding that more time is needed to reserve desirable event locations, especially during popular summer months on the limited number of weekends available.
At the same time, more brides have far flung guests who require the advance notice to make travel arrangements. The thinking is that if you really want someone to be able to attend, give them enough time to prepare. That includes planning for the costs of travel and making their accommodations, not just clearing their calendar for the event. If you don't send a Save the Date card, the underlying message may be that you really don't care whether they come or not. Or worse, that they really are on the "B" list and may not even have a spot on the seating chart!
In any case, Save the Dates accomplish two goals:
Formalize a couple's plan to marry
Set a firm date and location for the celebration
The easy thing is save the date cards don't really require more details than that. Just be sure you send them to guests you intend to invite. For more helpful tips about Save the Date cards, visit the Do's and Don'ts of Save the Dates in a previous Invite & Delight blog post.
Enjoy the array of Save the Date cards available at LookLoveSend.com. Each one is designed to coordinate with a wedding invitation, as well as other components of stationery in a collection. LookLoveSend.com prints Save the Date cards on the same high quality, heavy weight card stock as our invitations. Most designs may also be customized with a photo, and many are available in a choice of colors. Join our email list and receive 20% of your first order!