Steven Proposed Alexis said 'Yes!' Now we're getting married Please come be our guest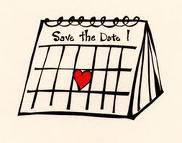 Sending a Save the Date card is a win-win situation. The engaged couple gets to broadcast their exciting news with family and friends. And guests get a leg-up on planning, which is especially appreciated by out-of-town guests and for destination weddings.
Here are some basic Do's and Don'ts for the increasingly popular Save the Date card:
DO remember that everyone receiving a Save the Date card must also receive a wedding invitation. So be sure you have your guest list settled before sending!
DON'T include a response card, this is an announcement only and does not require any guest feedback.
DO send these cards at least 6 months before the wedding so people can make arrangements for travel, accommodation, time off work, etc.
DON'T include unnecessary info like directions, registry info etc. (in fact, registry info should only be included on the bridal shower invitation, if at all)
DO specify the wedding location. For day weddings it is also recommended to precede the date with wording such as "A daytime celebration on…"
DON'T include "and family" on the address envelope. Instead, be very clear who is invited (list guests and children by name if possible). This avoids any misinterpretation – especially if in-laws live with the invited family or they have close relatives who also know the bride and groom. Better safe than sorry on this one…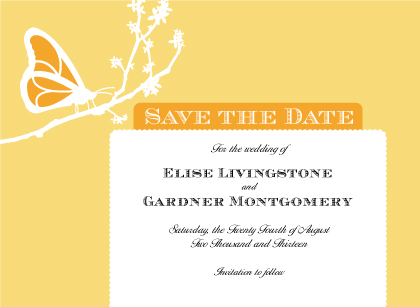 Save the Date cards can either match the style of your wedding invitation, or may be of a different design – the decision is entirely yours. The designers at LookLoveSend have created a diverse selection of Save the Date cards such as the Double Butterfly design by Sarah Cahill featured above.  Subscribe to our mailing list to receive 20% off your first order.