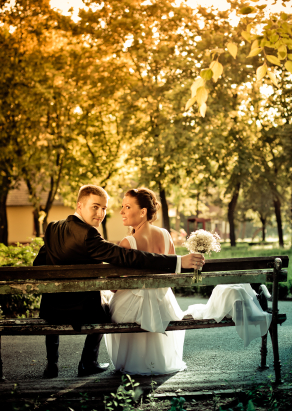 Happy fall! Today is the official start of autumn in the northern hemisphere. Are you a lover of color, cooler air, golden-hued afternoons, harvest plunders, candied apples, and more? Maybe your wedding planning is inspired by this most fleeting but beautiful of seasons.
If you are planning a fall wedding this year or next, here's a brief recap some of some of our autumn wedding planning ideas:
FlowersFall lets you shake things up by incorporating many non-flower pieces into bouquets, table settings and other floral decor. Showcase fall's magical contrast between warm and cool by tapping some of our flower suggestions for combining foliage, fall flower superstars and mixed textures.
Color is king in fall. Keep away from weddings' more widely used spring and summertime colors, but take note of this year's hottest fall trends that pop a vibrant color into a backdrop of expected fall neutrals. Get more fall color wedding planning ideas from our fall color blog.
Don't miss the chance to celebrate fall with local seasonal menu fare. If your caterer or venue doesn't offer seasonal menu choices, then add some more unconventional delights yourself, in the form of a gourmet caramel apple food favor or a harvest-themed wedding tasting bar.
Consider using all three of these elements to inspire your choice of fall wedding invitations. For a gorgeous look at some autumn-inspired wedding invitation suites, visit www.looklovesend.com. If you are planning ahead and your fall wedding date is set for 2012, be sure to enter our 2012 Wedding Invitation Suite sweepstakes for the chance to win a complete wedding invitation suite of your choice, valued up to $1,500.