If you find yourself with a baby shower invitation in hand, find out if the expecting mom has registered for her layette. You can have fun creatively packaging a layette using her registry items, or come up with your own ideas.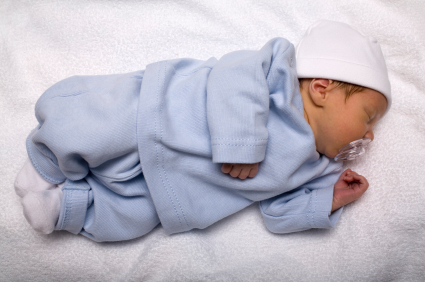 A layette is the fancy term for the collection of newborn apparel for keeping baby clean, warm and comfortable in the first weeks at home. Even though items are more about comfort and functionality than fashion, choices by baby clothing companies are growing.
Expecting mothers usually receive most if not all of baby's layette as baby shower gifts. Whether you are a baby shower guest or the expecting mom needing to register, here's a shopping guide to the essential layette items and suggestions for how many you should buy:
Side-tie or side snap cotton t-shirts (8 or more): These are especially useful in the first week or two when the umbilical cord is still attached and needs loose clothing. Plus these are the easiest to get on a small baby. Have plenty on hand since they are usually white and dirty fast from spit and drool.
Nighties (3-4) These make diaper changing a cinch, because you don't have to remove clothing overhead to change baby's diaper.
Onesies (10+) The staple of a baby's outfit at any age, the onesie helps secure baby's diaper and can be worn alone as a complete outfit in summer months, or as an undergarment in winter. You can have more fashion fun with this item than ever before.

Socks

(half dozen) Don't overlook baby's feet, especially during colder winter months, when heat exits the body most quickly through extremities.
Hats (cotton, soft knit, or flannel) Again, these are most useful during cooler months, but remember that even during milder seasons, baby is adjusting to a new environment not as warm as the womb. So even having a few cotton caps in spring and fall are a good idea.
Booties (at least 2 pair) A cute pair or two can put the finishing touches on baby even when wearing just a onesie. They are soft knit or cotton, so they serve the same purpose as socks, but just have a more dressed look about them.

Mittens

(at least 2 pair) These aren't the kind for making snowballs. Babies' flailing arms and hands with fast-growing fingernails can nick the tender skin on their face and head, so help protect them from themselves with cotton mittens, worn especially at nap time.
Bibs & burp cloths (a dozen or more) Plan on stocking up on lots of these! You really cannot have enough, and some will stain permanently and need to be tossed. Soft cloth diapers make great burp cloths.
Receiving blankets (4 to start with) These are thin, soft flannel or knit that should be used to hold a tight swaddle, not loose, in the crib.

Sleep sacks

(1-2) Most of these are sleeveless with a zipper and serve as a kind of sleeping bag to keep baby warm without the need for blankets. Use them once baby is out of the swaddling phase.
There are some other essentials that can be considered part of the layette, or simply as great shower gifts many expecting moms won't want to be without. These include having a diaper supply sufficient to last a few days, a diaper cream such as Desitin or Boudreaux Butt Paste, a Boppy (firm, c-shaped pillow with a changeable cover) for feeding, and some kind of quick changing mattress protector for nighttime messes (mine had snaps).
For fresh, fun baby shower invitations, check out the collection available at www.LookLoveSend.com. Their original designs are printed on high-quality paper stock and some designs can be customized with a photo image. Join the email list and receive 20% off your first order.