A newly engaged woman can find wedding planning inspiration anywhere. After becoming engaged, her first steps may be to buy 20 lbs of wedding magazines, to call reception sites for availability, andto calculate an estimated guest headcount. Usually after the basics of wedding location, size and date have been determined; the bride can relax and start to enjoythe fun wedding planning details.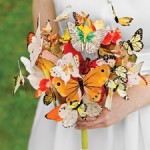 These "middle months" of engagement are the perfect time for a bride to find inspiration and ideas before she has to start worrying about RSVP counts and seating charts. Consider this beautiful and whimsical butterfly bouquet as an example. For a summertime outdoor wedding, this bouquet could truly set the tone of the entire event (not to mention the clear cost savings of butterflies over flowers!) I recently saw wired butterflies such as these ata local craft store and, even with my limited craft expertise, I'm fairly certain that I could follow Martha Stewart's simple instructions to create thiswhimsical bouquet (it takes just 4 materials and 4 steps!)
This quirky butterfly bouquet alone sets the tone for anatural and airy wedding theme of butterflies, flowers and birds. With this inspiration firmly in mind, other 'middle month' decisions should immediately become easier – see the floral cupcake display, bird-themed save the date card, and butterfly-accented boutonniere below.
Visit LookLoveSend.com soon and we hope you'll be inspired by our fantastic collection of beautiful wedding invitation collections. Subscribe to our mailing list to receive 20% off your first order.